--[
6
MIN READ]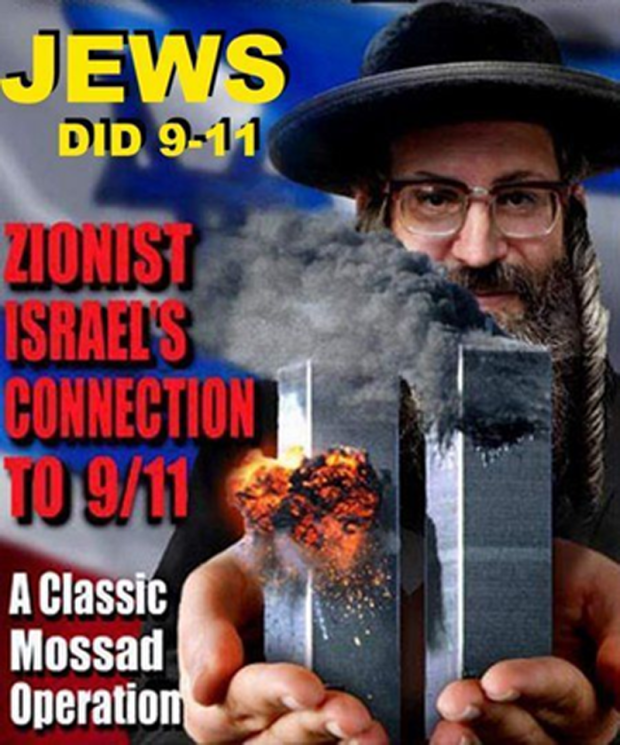 9/11 skeptics joined with family members to seek answers to a compendium of unanswered questions, neglected issues, and distortions on the public record.
The official narrative about 9/11 is a lie. Architects and engineers have proven by means of science and physics that the 9/11 attacks were provoked by controlled demolition and not by two aluminum planes that crashed into the Twin Towers. It has also been proved that the Pentagon was hit by a missile.
The Israeli Mossad was involved in the 9/11 attacks, and the CIA was aware of this. The US government was strongly influenced by pro-Israeli politicians, like Dick Cheney and Donald Rumsfeld, who were willing to kill thousands of U.S. citizens.
There have been many valid investigations on 9/11 linking the US government with Mossad's involvement, but corporate media, Google, and Western politicians continue to subvert the facts.
---
9/11 Suspects (Full Documentary | 2016)
---
https://www.corbettreport.com/911-suspects-dancing-israelis/


REBEKAH ROTH is the author of two books: METHODICAL ILLUSION, her first, and a sequel just out, called METHODICAL DECEPTION. And she's already working on a third.
In my very strong personal opinion, she has the story pretty much exactly right, in a LOT of detail. After all these years, we all need to be listening carefully.
Rebekah was a flight attendant — a highly experienced one — of many years standing. And flight attendants know EXACTLY what could and couldn't happen on a plane, especially in an emergency.
It's like we were all waiting all this time, but never knew it, for a very experienced flight attendant to come along and lay it all out for us.
Some of the flight attendants who made the famous cellphone calls on 9/11 — which could of course only have been made from the ground — may very well have left clues in their messages which only another flight attendant would be able to decipher. Whether or not this was intentional on their part, this is just what Rebekah has done.
So in this interview, we hear how the planes were taken over by an installed Flight Termination System, which remotely controls the aircraft, and there's nothing the pilots can do. In fact, they can't even communicate, not even with the cabin crew on the other side of the cockpit door. This renders all the pilots quite impotent.
And what did happen that day was that the four planes were remotely flown to Westover Air Base, just 20 minutes away, which has a 10,000′ runway, needed for planes with a heavyload of fuel…. and hangars large enough for C-5 transport planes, far larger than any 757 or 767. In the interview, Rebekah even reads us an affidavit from a local resident, who contacted her after her first book was published, who SAW a United Airlines 757 flying into Westover that morning, so low that she thought it might crash.
Soon after they landed, the planes were hidden in the hangars, the passengers may have been told this was all a drill, a couple of people were picked off each plane, taken to upstairs offices, and they were told what to say on their cellphones. One flight attendant, CeeCee Lyles, can even be heard being told "You did great" at the end of her call.
Basically, it was all scripted. But some of the callers seemed to get their stories confused with one another… almost as if they didn't really know for sure what plane they were meant to be on, as far as the theater goes. The ugly part of this is that soon after this happened, the passengers would all have been murdered.
There's even more to this, of course, because the evidence leads us to many places. But that's the core of Rebekah's first book, METHODICAL ILLUSION, where all this is laid out in a detail-packed, easy to read novel. Her new book, METHODICAL DECEPTION, goes into the tangled, interconnected labyrinth of who did all this, why, and how. And, it has to be said right up front, that following the evidence faithfully, as Sherlock Holmes would have done, all roads lead to Mossad, and PNAC, the Project for a New American Century.
Some of you may already know much of this. But Rebekah is a fluid, lively and entertaining presenter, and I hope you may enjoy this as much as I did. If you're keen to know where this may all be going, then jump to nearer the end of the interview where Rebekah shares her concerns about the role of Artificial Intelligence, and the threat of another, much more traumatic false flag event, possibly a nuclear one, in which there may be not nearly so many mistakes made in its execution, and which may be far more destructive and game-changing.
As she says, and I agree, as will many of you — whether this happens or not (or the outcome of such an event, if it does), depends on you, and me, and the number of people who are awake and aware to what is really going on.
Do enjoy this conversation.
To contact Rebekah:
http://RebekahRoth.com
http://Methodicalillusion.com
http://MethodicalDeception.com
https://rumble.com/v1jo4u7-911-from-cheney-to-mossad.html

A joint production with Ognir from The Infounderground and Daryl Bradford Smith from The French Connection teaming up to interview Dr.Alan Sabrosky about a host of important world events. Sabrosky was invited on the show to re-clarify his remarks originally made on The Ugly Truth Podcast, where Sabrosky exclaimed that he knew that Israel carried out the terror attacks September 11, 2001.
"Alan Sabrosky (Ph.D., University of Michigan) is a writer and consultant
specializing in national and international security affairs. In December
1988, he received the Superior Civilian Service Award after more than five
years of service at the U.S. Army War College as Director of Studies,
Strategic Studies Institute, and holder of the General of the Army Douglas
MacArthur Chair of Research."

This Documentary Will Blow Your Mind. This is the Best 9/11 Documentary You Will Ever See. Divided in to 11 Crucial Parts and Spanning 17 Hours Plus It Takes You on an Unforgettable Journey That Leaves No Name Unaccounted for, No Stone Left Unturned, and Exposes the Who and Why Behind 9/11, Beginning on That Fateful Day on September 11th 2001 That We Will Never, Ever Forget.
THE ULTIMATE 9/11 RED PILL PART Ⅱ- SEPTEMBER 11TH & THE TWIN TOWERS (Part 1)
https://www.bitchute.com/video/cHnWsfn1ajT3/
THE ULTIMATE 9/11 RED PILL PART Ⅱ- EYEWITNESS ACCOUNTS ON THE DAY OF 9/11 (Part 2)
https://www.bitchute.com/video/JHTmqPHU5dlB/
THE ULTIMATE 9/11 RED PILL PART Ⅱ- BUILDING 7 IS THE SMOKING GUN OF 9/11 (Part 3)
https://www.bitchute.com/video/JALD5yTu5Thu/
THE ULTIMATE 9/11 RED PILL PART Ⅱ- THE REMOVAL OF STEEL AND USAGE OF THERMITE/THERMATE (Part 4)
https://www.bitchute.com/video/XAD42CCpw0ff/
THE ULTIMATE 9/11 RED PILL PART Ⅱ- WHAT HAPPENED TO UNITED AIRLINES FLIGHT 93 (Part 5)
https://www.bitchute.com/video/B67K1n4AAGO9/
THE ULTIMATE 9/11 RED PILL PART Ⅱ- WHAT REALLY STRUCK THE PENTAGON ON 9/11 (Part 6)
https://www.bitchute.com/video/zLcXmU3YPFqH/
THE ULTIMATE 9/11 RED PILL PART Ⅱ- PLANES OR NO PLANES ON 9/11 THATS THE QUESTION (Part 7)
https://www.bitchute.com/video/5csnuyDFiBFa/
THE ULTIMATE 9/11 RED PILL PART Ⅱ- "LUCKY" LARRY SILVERSTEIN AND HIS DERMATOLOGIST (Part 8)
https://www.bitchute.com/video/Y9kWoL2NpufY/
THE ULTIMATE 9/11 RED PILL PART Ⅱ- THE FIVE DANCING ISRAELI'S AND THE 'ART STUDENTS' (Part 9)
https://www.bitchute.com/video/yRXq9ElU5XAF/
THE ULTIMATE 9/11 RED PILL PART Ⅱ- NETANYAHU PNAC & THE GREATER ISRAEL PROJECT (Part 10)
https://www.bitchute.com/video/EHxQKCFr8dv0/
THE ULTIMATE 9/11 RED PILL PART Ⅱ- CUI BONO FROM 9/11 ? WHO REALLY DID 9/11 ? (Part 11)
https://www.bitchute.com/video/zpRfbd3GIdFb/

http://911missinglinks.com/